Overview
Africa's highest peak, and the tallest freestanding mountain in the world, 'Kili' as it's affectionately known is in fact a long extinct volcano with its three cones rising high out of the African plains. Two of the peaks are dormant but a third, Kibo, shows signs of activity and is thought to still be live.
One of the features of Mt.Kilimanjaro that makes it so special is the different zones one passes through on an ascent. Technically the volcano is an Afromontane sky island, meaning unique flora and fauna exist there as a result of its isolation and altitude. It's a biodiversity hot spot and the forests are full of birds and animals, so don't forget to bring your camera and binoculars.
Kilimanjaro summit Trekkers will pass through eerie cloud forests on the lower slopes before traversing moorland and finally arriving at the snowy and rocky summit. Attempts on the summit usually set off during the night so that trekkers can reach the peak as the sun rises and have time to get back down again.
In reality one does not so much climb Kilimanjaro as walk or trek up in. There are six different paths of ascent with the Marangu route being one of the easier ones and taking around five days and staying in huts or tents along the route.
A reasonable degree of fitness is required to trek up Kilimanjaro, but an overwhelming majority of people have no problem reaching the summit.
Mount Kilimanjaro view
The view of the mountain in Tanzania.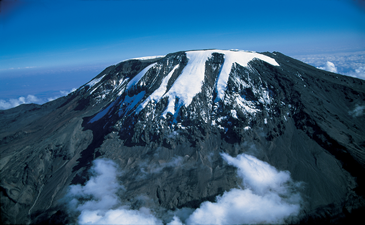 Another view of the mountain in Tanzania.